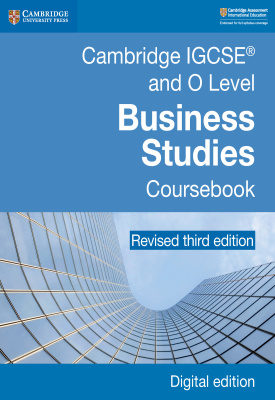 Subject:
Business administration
Hardcopy ISBN:
9781108563987
Cambridge IGCSE and O Level Business Studies Revised Coursebook
£ 20.46
You save :
£ 28.35
Hardcopy price :
online textbook -
2 day free trial
Free Trial
No credit card needed
online textbook -
Academic year licence
Summary
This revised set of resources for Cambridge IGCSE, IGCSE (9-1) and O Level Business Studies syllabuses (0450, 0986, 7115) is thoroughly updated for first examinations from 2020. This Digital edition contains exam-style case studies and stimulus material from businesses around the world – ranging from a social enterprise in China to a fast food outlet in Zimbabwe. These give an international view of the real world application of Business Studies theory. This resource provides comprehensive exam support with questions to help students practise and build their confidence with the subject. The final chapter gives revision tips and advice on writing well-structured answers. Answers to the coursebook questions are in the teacher's resource. For free revision support, go to the Cambridge University Press website. This eBook's page layout differs from the printed book. This Classoos licence does not give access to CambridgeGo or other resources made by Cambridge, such as: lesson plans, answers, media files, CD-ROMs etc.
Product description
Once purchased, this digital book will be available via Classoos on the web and on Classoos' app on iOS, Android and Windows 10 devices