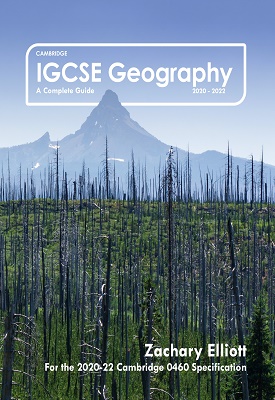 Publisher:
Zachary Elliott
Exam boards:
Cambridge Intl.
Hardcopy ISBN:
9781983010217
Cambridge IGCSE Geography: A Complete Guide
£ 13.00
You save :
£ 19.99
Hardcopy price :
online textbook -
Academic year licence
Summary
The perfect companion for the course, "Cambridge IGCSE Geography: A Complete Guide" was written to closely follow the course structure, meaning it can directly support your studies throughout your learning. Containing up-to-date information for the latest Geography specification, this guide also offers: Comprehensive and clear explanation of ideas to provide a thorough understanding of the course. Clear references to subject content information, making it easy to target your learning. Detailed case studies from across the globe to provide context to your learning. A glossary of key terms to enhance geographical understanding. This course guide was written specifically for the 2020-22 Cambridge IGCSE Geography 0460 specification. Please note that this guide has not been through the Cambridge Assessment endorsement process.
Product description
Once purchased, this digital book will be available via Classoos on the web and on Classoos' app on iOS, Android and Windows 10 devices
Other content that might be relevant to you