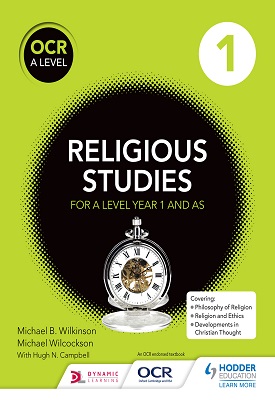 Subject:
Religous studies
Level:
AS & A-Level / (Advanced) Higher
Hardcopy ISBN:
9781471866692
OCR Religious Studies A Level Year 1 and AS
£ 20.99
You save :
£ 27.99
Hardcopy price :
online textbook -
14 day free trial
Free Trial
No credit card needed
online textbook -
Licence for 12 months
Details
Once purchased, this digital book will be available via Classoos on the web and on Classoos' app on iOS, Android and Windows 10 devices
Summary
An OCR endorsed textbook. Help students to build their subject knowledge and understanding with guidance and assessment preparation from a team of subject specialists; brought to you by the leading Religious Studies publisher and OCR's Publishing Partner. Develops students' understanding of 'Philosophy of religion' and 'Religion and ethics' through accessible explanations of key theories and terms. Enables you to teach 'Developments in Christian thought' confidently with comprehensive coverage of the key theological arguments. Supports assessment preparation with sample questions and revision advice written by subject specialists. Encourages students to reflect on their learning and develop their own ideas. Helps to extend learning and enhance responses with suggested ideas and additional reading. Content covered: Philosophy of religion. Religion and ethics. Developments in Christian thought.