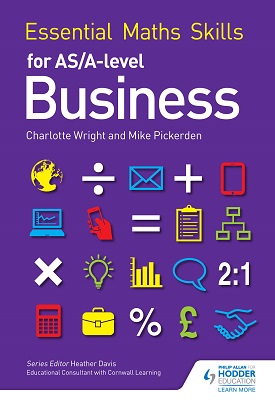 Subject:
Business administration
Level:
AS & A-Level / (Advanced) Higher
Hardcopy ISBN:
9781471863479
Essential Maths Skills for AS/A Level Business
£ 7.25
You save :
£ 10.88
Hardcopy price :
online textbook -
14 day free trial
Free Trial
No credit card needed
online textbook -
Licence for 12 months
Details
Once purchased, this digital book will be available via Classoos on the web and on Classoos' app on iOS, Android and Windows 10 devices
Summary
If you struggle with calculating profit or working out unit costs, this is the book for you. This textbook companion will help improve your essential maths skills for business, whichever awarding body specification you're following. You can use it throughout your course, whenever you feel you need some extra help. - Develop your understanding of both maths and business with all worked examples and questions within a business context. - Improve your confidence with a step-by-step approach to every maths skill. - Measure your progress with guided and non-guided questions to see how you're improving. - Understand where you're going wrong with full worked solutions to every question.