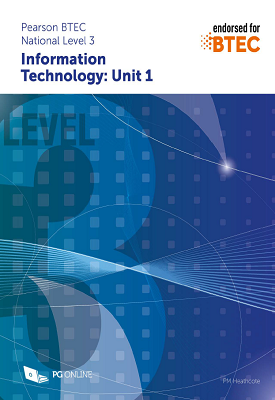 Curriculum:
BTEC Qualification
Pearson BTEC Level 3 in Information Technology: Unit 1
£ 11.20
You save :
£ 16.00
Hardcopy price :
online textbook -
21 day free trial
Free Trial
No credit card needed
online textbook -
Academic year licence
Summary
The aim of this book is to provide comprehensive coverage of topics in Unit 1 of the BTEC Level 3 course in Information Technology in an interesting and approachable manner. If you are studying this course, you need to notice, read about, experience and analyse the impact and implications of current and emerging digital technologies. Examples and case studies from scenarios and events that have recently been in the news are used to bring the subject to life. Reading and discussing articles from quality newspapers, whether printed or online, discussing relevant TV documentaries, noticing and analysing the use of digital technology in countless aspects of life, as well as learning from a textbook, are all going to contribute to a successful exam result. The book is divided into six sections corresponding to the six Learning Aims outlined in the specification. In addition to almost 100 in-text questions and discussion points, there are over 80 end-of-chapter exercises that are designed to give practice in answering exam-style questions, using command words such as state, describe, explain, analyse.
Product description
Once purchased, this digital book will be available via Classoos on the web and on Classoos' app on iOS, Android and Windows 10 devices
Other content that might be relevant to you