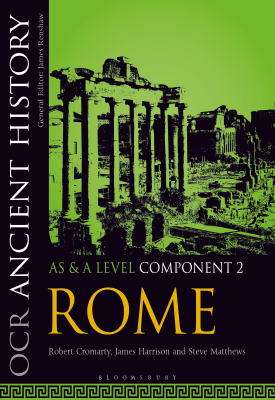 Subject:
Classical Civilisation
Level:
AS & A-Level / (Advanced) Higher
Hardcopy ISBN:
9781350015272
OCR Ancient History AS and A Level Component 2 - Rome
£ 12.05
You save :
£ 17.99
Hardcopy price :
online textbook -
14 day free trial
Free Trial
No credit card needed
online textbook -
Academic year licence
Summary
This textbook supports the specification for AS and A-Level Ancient History (first teaching September 2017). It covers the whole of Component 2, both the compulsory Period Study and the three optional Depth Studies: Period Study: The Julio-Claudian Emperors, 31 BC–AD 68 by Robert Cromarty and James Harrison Depth Study: The Breakdown of the Late Republic, 88–31 BC by Steve Matthews Depth Study: The Flavians, AD 68–96 by Robert Cromarty Depth Study: Ruling Roman Britain, AD 43–c.128 by James Harrison How did Augustus change the Roman Constitution? Why was the Roman Republic doomed to fail? How did the Flavians re-invent the Imperial image? What was life like in Roman Britain? These are the sort of questions that you are required to consider for A-Level Ancient History. This textbook guides you through the use of power and politics in the Roman Senate and Imperial court from the Late Republic into the Principate. It considers individual ambition against the need for change, and substantive action against image and deception.
Product description
Once purchased, this digital book will be available via Classoos on the web and on Classoos' app on iOS, Android and Windows 10 devices