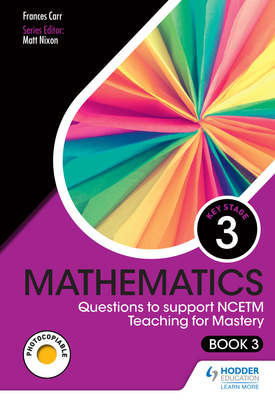 Level:
Key Stage 3 / National 3
Hardcopy ISBN:
9781510474949
KS3 Mathematics: Questions to support NCETM Teaching for Mastery (Book 3)
online textbook -
14 day free trial
Free Trial
No credit card needed
online textbook -
Academic year licence
Details
Once purchased, this digital book will be available via Classoos on the web and on Classoos' app on iOS, Android and Windows 10 devices
Summary
Deepen students' understanding and improve their mathematical fluency with over 1300 photocopiable questions written for the Key Stage 3 curriculum following the NCETM's Mastery approach. This photocopiable question pack provides a solid foundation for GCSE Mathematics. - Secure and extend students' understanding with 12 practice questions for each mathematical concept. - Aid progression with differentiated questions that follow the 'Do it, Secure it, Deepen it' Mastery structure. - Provide ready-made lesson solutions with over 100 photocopiable worksheets - answers are available in the back of the book. - Save time planning with questions that are mapped to the NCETM Secondary Mastery planning resources and linked to the popular Kangaroo Maths scheme of work. - Benefit from the experience of UK Mastery experts with tightly structured questions written to fit the five key components for NCETM Mastery: coherence, representation & structure, variation, fluency and mathematical thinking.